Tyre Creme Kit - Free Sample Offer!
To celebrate the first anniverary of the Xpert-60 detailing brand launch we are offering 25 customers the chance to receive a free sample of our unique Tyre Creme kit. The kit will detail up to 80 tyres with a fantastic high-gloss, long lasting shine.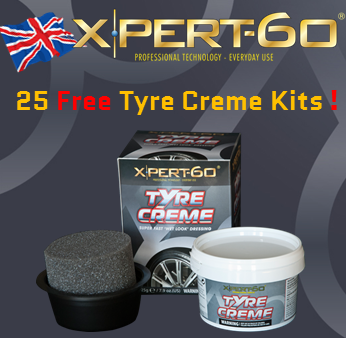 The offer goes live at 12 noon on Monday 29th July. The first 25 customers to get in contact through the contact page will get a free Tyre Creme sent directly out from our factory (no purchase necessary). Please remember when you contact to ask for the free Tyre Creme offer and provide your full name and address details.
Sorry the offer is only available though the xpert-60.com contact page, if you are in the first 25 customers we will let you know when the Tyre Creme Kit has been shipped. If you have not been quick enough, don't worry there are more offers to come in August!